Thursday Apr 28, 2022
Why timing is everything for the growth of CBD franchising, with Jay Benge of Your CBD Store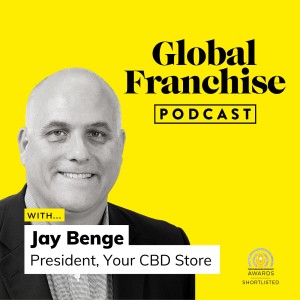 The CBD retail craze shows no signs of stopping, with this new health wave taking markets around the world by storm. Even in countries like the U.K., where the sale of recreational or medicinal cannabis is illegal, that hasn't stopped CBD retailers from selling a wide variety of products infused with oils often found in hemp.  
One such organization making its mark in this emerging sector is Your CBD Store, the retail franchising arm of SUNMED. Founded in Florida in 2018, Your CBD Store now has more than 500 locations across 39 states in the U.S., as well as a burgeoning U.K. footprint.  
But what's the difference between the likes of a cannabis dispensary franchisor, and the kind of operation run by Your CBD Store? And what kind of franchisee would make a good fit for this bold new venture? To answer these questions and many more, we sat down with Jay Benge, president of Your CBD Store. 
To keep your finger on the beating pulse of franchising, sign up for our newsletter at global-franchise.com, subscribe to our definitive magazine, and join the conversation with our experts today on LinkedIn, Twitter and Facebook.
Ⓛ https://www.linkedin.com/company/global-franchise/
ⓣ https://twitter.com/globalfranmag
ⓕ https://www.facebook.com/globalfranchisemag/